Description
Why do you need a LEFEET Underwater scooter?
Safer water sports experience
Electric propulsion makes navigating through dangerous ocean currents easier and more efficient
A water scooter can quickly help you get back to shore if you are swept away by the current while snorkeling
Save physical energy
Allows you to effortlessly and smoothly glide through the water, resulting in energy conservation and reduced scuba tank consumption
Following an exhausting dive adventure, utilizing a water scooter could facilitate the return trip to the coastline or vessel
Move faster
You'll be able to chase fish and see more marine life than ever before
Obtain additional velocity to expedite your movement instead of relying solely on swimming and using your fins
Fun for the whole family
The modular design enables it to be worn and attached to various circumstances effortlessly through its wireless remote. This feature also provides the opportunity to mix and match different accessories to unlock more possibilities
Why Choose LEFEET?
The world's first modular underwater scooter
The first one innovatively brought up the modular design idea in water scooters In 2018
Mix and match parts and accessories to suit various uses such as wearable, scuba tank attaching, and paddle board motorized
It still has unlimited possibilities waiting for unlocked more add-ons and extensions
Wireless control
Breakthrough in underwater communication, realizing stability wireless control in water (which is not easy)
Release from wires, more freely and flexibly when exploring
Allows simultaneous control of up to 10 scooters within a 150cm/60 inches radius
Replaceable Battery
Battery life: 35 to 70 minutes based on the speed setting, around one scuba dive trip
Quick replaced in 5 seconds
Designed for air travel with regulations (2 additional batteries are allowed in carry-on luggage)
Innovative R&D from scratch
Product-oriented team, successfully bring the bulky DPVs to consumer-level water scooters
Have won several industrial design awards
Recognized and referred by professional divers, underwater photographers, and international rescue associations
Features
Fastest and Most Powerful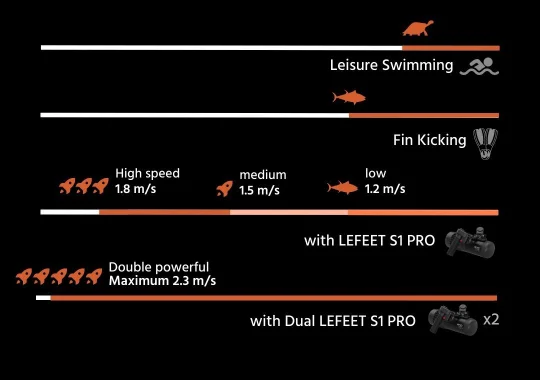 Single jet modes: 8 kgf / 16 lbf
Three Speed Settings
Low: 1.2m/s | 4.3km/h | 2.7mph
Medium: 1.5m/s | 5.4km/h | 3.4mph
High: 1.8m/s | 6.5km/h | 4mph
Capable of carrying weights exceeding 100kg / 220lbs

Dual Jet Modes: 16kgf / 35lbf

Maximum Speed 2.3m/s | 8.28km/h | 5.2mph
It is recommended to use the double-power dual jet mode for individuals with a weight exceeding 70kg / 155lbs
Safe to use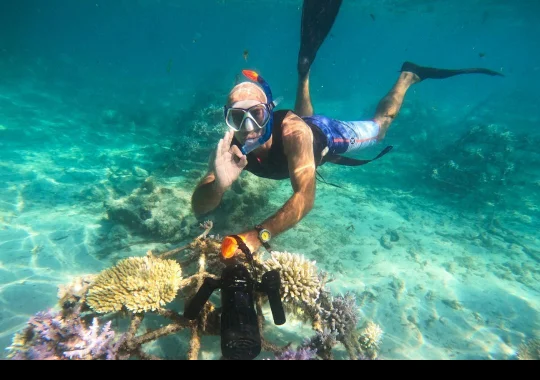 Keep your finger on the trigger to activate the scooter
If you release the trigger, the scooter will stop
Controller safety lock to prevent accident-triggering
It is highly advisable to trigger the water scooter only for horizontal forward at equal depths.
Avoid activating the scooter for rapid vertical diving down, and always pay attention to the ear pressure equalization during depth changes.
Compact and Easy Traveling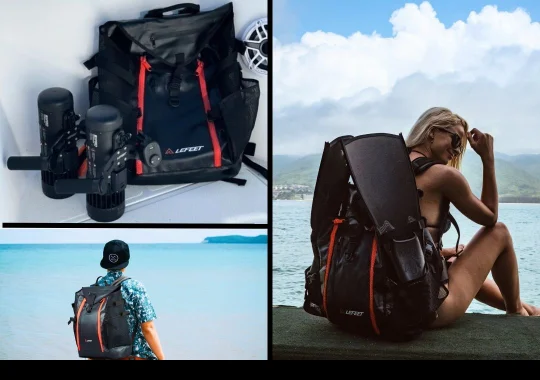 The S1 Pro device along with its modular accessories can effortlessly fit into your luggage to be portable.
For Underwater Photography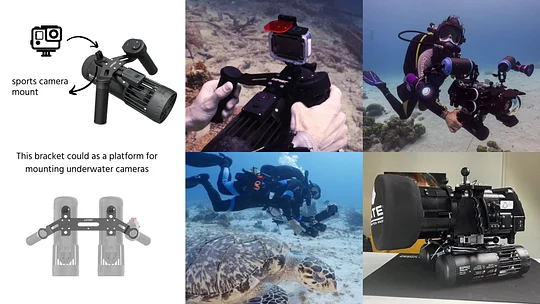 Our dual jet bracket can be used to easily DIY install an underwater camera with clips and straps.
The dual jet mode provides enough thrust to effortlessly carry your scuba equipment along with your heavy shooting and recording equipment.
Using LEFEET S1 PRO, you can maintain a steady pace and capture smooth footage without possible micro jitters that may occur while hand-holding your camera
Specifications

Weight: 2.5kg / 5.51lb (Including battery)

Dimensions: 30*10.2*10.2cm / 11.8*4*4 inch 30*30*16 cm / 11.8*11.8*6.3 inch (with bracket)

Working Temperature: 0℃ ~40℃ / 32°F ~ 104°F

Depth Rating: 40m / 131.2 ft

Three Speed Settings
Maximum: 1.8m/s | 6.48km/h | 4mph
Dual Jet Maximum: 2.3m/s | 8.28km/h | 5.2mph

Thrust: 8kgf / 17.6 lbf

Battery life: 35-70 mins / Remote controller 2.5h

Charging Time: 2.5h /Remote Controller 1.5h

Battery Rated Capacity: 4400 mAh

Rated Energy: 97.68 Wh

Charging Temperature: 10℃-45℃ / 50°F-113°F

Battery Weight: 0.76kg / 1.68lb

Package Content
1. LEFEET S1 PRO *1
2. Remote Controller *1
3. Single Jet Rail Kit *1 (include Handle *2 / Quick-Disassemble Screws *2 /Handle Bracket *1)
4. Replaceable Battery *1
5. Charger *1 / Remoter Charge Cable *1
6. Screwdriver *1
7. Anti-lost Strap *1
8. O-Ring *1 (for spare)
9.User Manual x 1 / Quality Certificate *1
10. Sport Camera Mount*1


Warranty Policy
Dear Customers:

LEFEET guarantees that the LEFEET S1 PRO products you purchase are designed and manufactured according to the qualified standards. Under normal use, there is no functional defect during the warranty period. If you have any problem in the process of using it, we recommend that you first check the user manual, furthermore, you can also download the user manual, FAQ, instructional video, or support forum on our website.


SCOPE OF SERVICES
Your LEFEET S1 PRO includes a one-year limited hardware warranty which starts from the date of the sales invoice, the warranty period of the main body is 12 months while the warranty period of the battery is 6 months. If you cannot provide an invoice or other valid proof of purchase, then the warranty period will start from 90 days after the production date that shows on the product, or otherwise specified by LEFEET.

If repairs are not feasible or commercially unfeasible, we may replace this product with new or refurbished products with similar features. After repair, firmware upgrade, and replacement, the replaced product or accessory will be covered by the same warranty during the remaining warranty period of the original product.


HOW TO OBTAIN AFTER-SALES SERVICE
If a product does not function as warranted during the warranty period, please contact us through service@lefeet.com to obtain after-sales service.
LEFEET may not offer after-sales service in some areas, the policy of after-sales service varies from different places. Additional charges may be required for services outside the regular service scope. Please contact us for information specific to your location.


WHAT TO DO BEFORE OBTAINING AFTE-SALES SERVICE
Please specify the problems with the product after contacting LEFEET.
LEFEET technician will attempt to diagnose and resolve your problem by phone, email, or remote assistance. If your problem cannot be resolved over the telephone, you may be required to deliver the product to LEFEET for further examination. LEFEET will arrange for repair or replacement service under this Limited Warranty Service.


PRODUCT AND PART REPLACEMENT
When after-sales service involves the replacement of a product or part, the replaced product or part becomes LEFEET's property, and the replacement product or part becomes your property. Only unaltered LEFEET products and parts are eligible for replacement.

Replacement products or parts provided by LEFEET may not be new, but it will be in good working order and at least functionally equivalent to the original product or part's warranty. A replacement product or part shall be covered for the time remaining in the original product's warranty.


USE OF PERSONAL CONTACT INFORMATION
If you obtain service under this policy, you authorize LEFEET to store, use, and process your contact information, including name, phone number, address, and e-mail address. You agree and understand that it is necessary for LEFEET to collect, process, and use your information to perform service under this policy. We may contact you to inquire about your satisfaction with our service or to notify you about any product recalls or safety issues.

In order to achieve these aims, you authorize LEFEET to transfer your information to any country where we do business and to provide it to entities acting on our behalf. We may also disclose your information where required by law.


WHAT THIS AFTER-SALES POLICY DOES NOT COVER

This policy does not cover the following:

Collision or burning down accidents caused by man-made and non-product quality problems.
Damage caused by unauthorized modification and dismantling of the shell under the guidance of the unofficial instruction manual.
Damage caused by improper installation, use, and operation not according to the user manual.
The customer repairs the parts by himself or asks an unauthorized service organization to repair/modify the parts without official instructions.
Damage caused by improper circuit modification guided by an unofficial user manual and mismatch or misuse of the battery and charger.
Damage caused by misuse of the product or handling of the product under environmental conditions not in accordance with the user manual.
Damage due to peripherals, add-on devices, or accessories other than those recommended in the user manual.
Damage is caused by insufficient discharge when the battery is low or when using a battery with quality problems.
The device has been damaged, including but not limited to damage caused by animals, lightning, abnormal voltage, fire, natural disasters, and transportation.
Products or parts with an altered identification label or from which the type number, serial number, production date has been removed or unrecognizable.
The product cannot work properly because it is not used in the country/area where it was originally designed and manufactured or approved for use.
For third-party applications that you use on the product.


LIMITATION OF LIABILITY
LEFEET only takes charge of the loss or damage under the following circumstances: Your product is owned by LEFEET or it is in LEFEET's transportation. Under no circumstance, and notwithstanding the failure of the essential purpose of any remedy set forth herein, shall LEFEET, its affiliates, suppliers, dealers, or service providers be liable for any of the following even if informed of their possibility and regardless of whether the claim is based in contract, warranty, negligence, strict liability or other theory of liability: 1) Third party claims against you for damages; 2) Special, incidental, punitive, indirect or consequential damages, including but not limited to lost profits, business revenue, goodwill or anticipated savings.
In no case shall the total liability of LEFEET, its affiliates, suppliers, dealers, or service providers for damages from any cause exceed the amount of actual direct damages, not to exceed the amount paid for the product.
Video